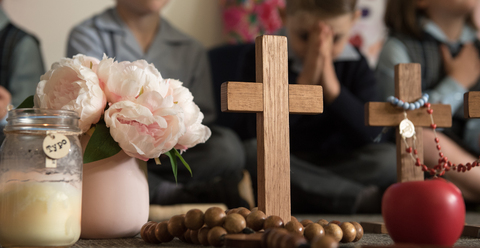 St Raphael's School is a vibrant community of learning, faith and life where we foster positive relationships and a sense of belonging.
We believe that Jesus came into our world, lived, taught, loved and died so that we can know how to "Love one another as I have loved you " John 13:34-35. This belief permeates all that we do at St Raphael's School.
We recognise and nurture the spirituality of each person and we welcome everyone who supports our school values. We aspire to live "the joy of the Gospel" each and every day.
While in a Catholic school all areas of learning are viewed through a contemporary Catholic lens. This becomes the driving focus in the learning of Religious Education. Through the Crossways Religious Education curriculum students are:
Invited to explore their personal spirituality
Encouraged to think critically, seek truth and make meaning
Challenged to be of service to others in the Church and in the world
Empowered to strive for a just world for all
An important part of our mission as a Catholic community is to be in solidarity with others in need around the world. Awareness raising and fundraising action play an important role in our students' learning.
In Partnership with Parish
We are proud to be a part of the Parish of St Paul of the Cross and we work closely with the team in our parish in our shared mission. Catholic students who choose to prepare for and celebrate the Sacraments are invited to be involved in the program that is parish based, family-centred and school supported. We work closely with our parish in facilitating the sacramental program to support parents in the preparation of children for the Sacraments.